Initiate change
Foster growth
Enrich learning
Build community
Celebrate diversity
…All through Group Drumming and Expressive Arts

Terri Segal
Owner/Director, Rhythmic by Nature
terri@rhythmicbynature.com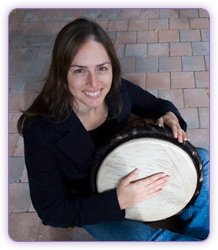 Terri is an Expressive Arts Therapist, Facilitator, and Educator who is dedicated to sharing the therapeutic value of creative expression through Group Drumming and Expressive Arts workshops. For the past 10 years, Terri has studied and taught West African Drumming and World Percussion. She is a trained Expressive Arts Therapist and Drum Circle Facilitator. Terri participated in HealthRhythm's Group Empowerment Drumming Facilitator Training Program, Village Music Facilitator Training Program, completed a three week West African Drum and Dance Intensive with Company Fore-Fote in Guinea, West Africa, holds a BA Honors in English from McMaster University, and is a graduate of Expressive Arts Therapy at ISIS-Canada.
Through her business Rhythmic by Nature, Terri facilitates Group Drumming Programs at schools, social service agencies, and for small and large businesses for the purpose of teambuilding, wellness, recreation, and education.
In her innovative, fun, and memorable workshops, Terri focuses on how the process of music-making can enlighten her clients in areas of communication, stress management, and inter-personal dynamics.
Depending on the needs of her clients, she can also effectively facilitate workshops that combine drumming with other artistic modalities such as writing, visual art, movement and voice.
Terri brings her gentle and affirming leadership skills to her empowering, resourceful, and community building workshops. She honors each participant's unique gifts, is an empathetic role model, a good listener and intuitive guide.

Debbie Ingham
Associate/Lead Facilitator
debbie@rhythmicbynature.com
Debbie has expressed herself through music, rhythm and dance since the age of 4 when she performed lead roles in musical productions. She discovered drums by age 12 when she started taking lessons and playing her father's drum kit. She then joined a drum corp, and by age 16 was running her own drum corp for a trophy winning marching BAton company in Toronto.
Debbie discovered hand drumming while completing her Holistic studies at the Transformational Arts College and was hooked! She went on to complete Gary Diggins Sound-Work as Soul-Work program, and started taking lessons in African rhythms and Djembe technique.
This direction lead her to Terri Segal and Rhythmic by Nature where she completed Terri's Internship and Associate program.
Debbie incorporates her knowledge of Healing through Sound into her practice and experiences great joy from witnessing the positive changes that occur in people as a result of drumming and playing rhythm togetther. This, combind with her passion for educating, rhythm, dance and her love of "fun" makes Debbie a valuabe member of the RbN Team!
Sara MacMillan
Associate/Lead Facilitato
sara@rhythmicbynature.com
Sara MacMillan is a facilitator and educator, with a Masters degree in Social Work and a Bachelor of Arts in Cultural Studies.
Since 2004, Sara has been studying Afro-Cuban, Afro-Brazilian & Congolese drumming, individually and in groups and continues to lead a weekly therapeutic drumming class, which she started in 2008.
Sara has benefited personally from the therapeutic qualities of group drumming and is excited to share this gift through Rhythmic by Nature.
In addition to completing Rhythmic by Nature's Internship and Associate training program, Sara has also studied Group Arts Facilitation for one year with Cheryl Zinyk of Sol Express theatre group.
Hazel Newton
Associate/Lead Facilitator
hazel@rhythmicbynature.com
Hazel has been making music all her life, starting from picking out tunes on the family piano at age four, to playing oboe professionally in groups such as the Chicago Symphony, the Toronto Symphony, the Bach Consort, and Tafelmusik Baroque Orchestra. In addition to symphonic work, she has appeared in the orchestras for musical theatre in a variety of styles: Cats, Miss Saigon, Phantom of the Opera, Showboat, and the Sound of Music, and in back-up bands for artists such as Sammy Davis Jr., Tony Bennett, Rita MacNeil, Brian Wilson of the Beach Boys, and Roger Hodgson, formerly of Supertramp.
Hazel completed the Health Rhythms training in 2007, and also attended Arthur Hull's Facilitator Trainings and Rhythmic Alchemy Playshops in 2007 and 2008. Following these studies in 2009, she went on to complete her internship with Terri Segal of Rhythmic by Nature, and is now an Associate and Lead Facilitator for RbN.
Hazel has always striven to bring music to people, whether through her performing, teaching, or through musical co-creation in a drum circle. She has a special interest in bringing out people's inherent musicality, whether working with special needs adults, the well elderly, family groups, or corporate functions, and she truly believes the RbN motto, "we are all rhythmic by nature!"
Lynda Sarrasin
Associate/Lead Facilitator
lynda@rhythmicbynature.com
Lynda joined the Rhythmic by Nature team as an Associate and Lead Facilitator in 2011 after completing a 6 month internship with Owner/Director Terri Segal. Lynda brings her passion for holistic health and wellness, strong inter-personal skills and playful, inter-generational rapport to her memorable, fun, dynamic and unique Drumming workshops. She is dedicated to pursuits that bring spiritual fulfillment to herself and others through the belief that we are all connected.
The life-time student, mother, drummer, former Customer Service Specialist and Bellyfit Instructor has also completed RbN's Facilitator Training series; levels 1, 2, and 3 both as a participant and as an Assistant Facilitator to Terri's innovative and effective Staff/Facilitator Training Modules at a number of Long-Term Care Residence locations, Summer Camps and RbN Studio Workshops.
Lynda has recently Co-led the Facilitator Training Programs at Brock Township, (including Beaverton, Cannington, and Sunderland) where weekly Community Drumming Programs have been established and sustained through Community Leaders trained under the RbN model. She has also led the Training for Recreation Staff Facilitators at Lakeridge Community Health Centre-Whitby and Community Living Association South Simcoe (C.L.A.S.S.) where both locations continue to offer their clients regular drumming programs through Staff Facilitators.
Lynda is devoted to sharing the gift of drumming and her unfaltering belief in the multi-dimensional therapeutic benefits it offers, to diverse populations of all abilities. Her enthusiastic, playful, vivacious leadership approach, astute awareness of each individual participant, combined with her supportive, non-judgmental guidance, allows her to deliver an inclusive, spontaneous, appropriate, in-the-moment Facilitation style that she successfully adapts to all group workshop settings.


The first time that I heard the pulsating rhythm of a community drum circle was in Montreal at the Tam Tam that is held on Mt. Royal each Sunday afternoon. I was amazed that so many people could gather together, each drumming and moving to their own rhythm, while at the same time, uniting in a common pulse.
Throughout my studies at McMaster University, my passion for drumming took on a whole new meaning. I began collecting hand drums and percussion instruments, joined a West African drumming class, and initiated weekly drum circle gatherings; all for the sheer love of bringing together people to celebrate the power of rhythmic and creative expression.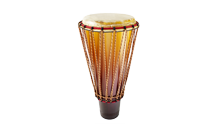 As I began facilitating these gatherings, I became aware that drum circles go far deeper than drumming alone, that the dynamics of the music can reveal the dynamics of the group, that a drum circle is a metaphor for community where each person has a unique role in the music-making experience… where communication, listening and respect build the foundation… and where connection, disconnection and everything in between can occur.
In my days at university I would gather together fellow drummers and join in rallies and marches in support of local social justice issues such as anti-racism, affordable housing, and equal rights. In these cases, the sound of the drums would not only assist in calling peoples attention, but also carry a very potent and unified message about the importance of respecting differences, celebrating diversity, and communicating with each other.
I have always felt a natural pull to weave in other artistic modalities into my drumming programs such as painting, poetry, voice, movement and story telling. My passion to build a sense of community and inspire change through the arts continues to grow; and it naturally nurtures a constant desire for learning and honing my skills as an Expressive Arts Therapist… Above all, it feeds my soul.
Together in Rhythm,