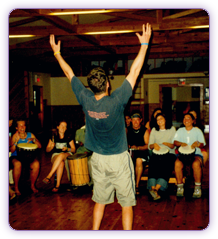 Are you tired of repeating the same recreational activities over and over again with your groups? Are you interested in gaining new activity ideas and useful tools that help to foster self-expression, and build community?
Group Drumming could be just the activity to complement and enhance your recreational, teambuilding, and therapeutic programs!
This interactive workshop is excellent for:
Early Childhood Educators
Summer Camp Staff
Teachers
Music Therapists
Recreational Therapists
Occupational Therapists
Social Workers
Child and Youth Workers
Group Facilitators
You will learn about the therapeutic value of group drumming by experiencing it first hand. Using a variety of African drums, and world percussion instruments you will learn basic hand drumming techniques, African, Middle Eastern, and Latin American rhythms, and engage in high energy, cooperative rhythm games.
Enjoy the opportunity to explore rhythm through movement, voice and visual art. Learn easy ways of making homemade instruments, as well as ways to create rhythm with the body and voice.

Through hands-on activities, small and large group discussion, and reading material; you will develop ideas as well as practical experience in carrying out music activities that are rooted in non-judgment, community, self-expression, creativity and play.
No previous drumming or musical experience is necessary, and instruments are provided by the instructor.