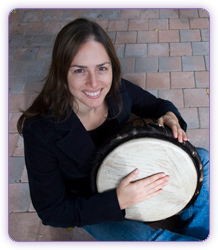 Rhythmic By Nature… Facilitating Group Drumming through the Expressive Arts for a deeper, more meaningful, lasting experience!
Develop powerful resources that naturally transfer to other areas of your life!
Experience a sense of empowerment, heightened awareness and sensitivity to oneself and others.
Enjoy the therapeutic benefits of creative expression and the all-inclusive experience Rhythmic By Nature delivers.
The Expressive Arts is a very personalized process that values and explores the Inter-connection between all the arts - music, movement, visual art, and drama - allowing us to tap into the wellspring of creativity within us.
Regardless of physical or emotional capacity, all participants feel validated and acceptedand enjoy an increased sense of self-esteem and vitality, through a very unique and memorable music-making experience!
Watch Rythmic by Nature in Action facilitating a drumming workshop at a Women for Women & Companies event



Group Drumming is a recreational music-making activity that provides an opportunity for each participant to express his or her own natural rhythms, while at the same time contributing to the group song. Using a variety of African hand drums and world percussion instruments, participants learn basic hand drumming techniques, and engage in fun rhythm based activities that incorporate movement, voice and music-making.
Group Drumming is rooted in non-judgment, community, self-expression, creativity and play. No previous drumming or musical experience is necessary.

Provides an outlet for self-expression
Inclusive activity that unites people of all ages and levels of physical and mental ability
Develops cooperation, leadership, communication, and listening skills
Helps to release stress
Is a fun and empowering experience
We customize all programs to meet the needs of your group
Programs range in length from 30 min to full day events
We cater to small or large groups
Offered as a single workshop or a weekly, bi-monthly, or monthly program
Cost is determined by program length, group size, location
All instruments are provided by the facilitator, and facilitator will visit your facility


Teamwork, Building Trust, Respecting Differences, Communication,
Leadership, Embracing Change
Written by: Terri Segal Owner/Director, Rhythmic by Nature
(Click on the drum graphic below to download the article. Note: you may need Adobe Acrobat Reader to view the document. Click here to download the latest version.)

Site Built by Believe It Design Works