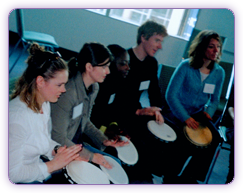 One of the most important assets of an effective and profitable organization is your team.
Meeting the high demands of work responsibilities can often lead to stress, lack of motivation, an overall decrease in team productivity, and a high employee turnover. To sustain an effective team, employers need to take into consideration the importance of each individual's wellbeing, their innate or learned skills and experience.
Employees who spend time in team-building, communication and wellness programs will contribute to efficiency, productivity, and quality service.
Group Drumming is one such activity that is highly effective in achieving this objective

Group drumming can benefit your team by:
Creating a sense of accomplishment and

group empowerment

Reducing stress
Bringing more

innovation

to daily tasks
Reducing absenteeism and decreases employee turnover
Improving

group cohesion

Increasing staff interaction
Providing an inclusive, fun and memorable experience
"[Group Drumming] got people working together for the common goal and enjoying it."

-Participant in the Ministry of the Attorney General-Provincial Support Staff Seminar
Group drumming can be incorporated into your:
Teambuilding

Event
Staff Retreat
Conference

Lunch and Learn

Seminar
Special Event

Professional Development

Workshop
"The group advanced from individualism and hesitation to a society committed and enthusiastic. Besides the fun and the great message, I thought the underlying message was also very clear and so appropriate - we can maintain our individualism and "drum" to our own beat while still maintaining the pulse of the group - teamwork at its best."

-Participant in the Ministry of the Attorney General-Provincial Support Staff Seminar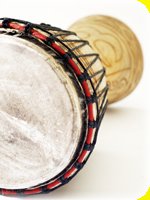 The entire process of making music together highlights and helps to develop the group skills necessary to work together in harmony such as; communication, cooperation, listening, shared leadership and respect.
Group Drumming is a unique and inclusive activity that brings team members to the same level. Just as each instrument plays an important role in the rhythm, each person plays an integral role in the team.
Using a variety of African hand drums and world percussion instruments, our experienced facilitators will guide your team through rhythm based warm-ups, an introduction to basic hand drumming technique, and facilitated music-making. We will spend time debriefing activities in order to make the connection from drumming, back to concepts relevant to your team and their everyday responsibilities.
No previous musical experience is necessary and we provide all instruments.
At the end of a group drumming session, team members will have strengthened existing bonds, formed new connections, and be left with an overall sense of renewal, energy and focus as they enter back to work.